FEMA Quinn and a Blackhawk National Guard Hero
Mood:
spacey
Now Playing: FEMA in the morning FEMA at night
Topic: FEMA & FAILURE
Man to bad they can't do anything
right
, even after the Katrina you would think they could wise up a little.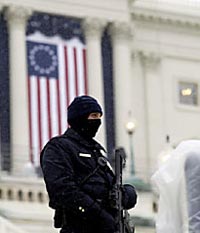 I think they spent to much time practicing how to be Black-booted thugs than actually doing what they are really needed and counted on to do. With Rita on the way FEMA shuts down a relief center in Houston I mean is this the way to help people who are doing without anything and everything? FEMA spokesman Justin Dombrowski said the agency closed the center for the day because of the heat and the unexpectedly large crowds. What?

'''HELLO is anybody Home?'''

that remind me I had a voicemail on my phone from an old friend, and have yet to research or look into it the factuality of it yet, but he said he was in Mississippi where the Rainbow Family has brought in big trucks and are feeding 1000's. He said it was amazing. He said the police were just letting them hippies "come on in" with all there gear and food to help feed all those hungry and displaced families. He said it was really cool. He had a nice positive comment from being a displased New Orleans flood victim himself. hmmmmmm?

But hey!
Do you remember my previous post click here to go back about the 500 dollar Hammer? -high price Hotel rooms for FEMA?-
Well next day I read in the Sept 23 05 issue of the NY Times a big article on this scallywag
Talk about making a buck when the opportunity is right.
Mr Quinn has, anyway at least from what I have read, reached out to officials inside FEMA that Mr. Quinn was able to identify through contacts at the Shaw Group, a large, well-connected construction and engineering company. Shaw has signed a $100 million contract with FEMA and another of similar size with the Army Corps of Engineers to help with the cleanup and rebuilding. Mr. Quinn is hoping to persuade FEMA to house a good portion of the workers indefinitely in his newly created temporary barracks. He also hopes to house displaced residents of New Orleans and other affected areas in any of the 21 hotels he said he was negotiating to buy.
Heck he even has taken up a new business as booking agents, charging other hoteliers a commission for passing along leads.
I read in another bit that said "A childhood friend of Mr Quinn's has taken a six-moth leave from an executive position to 'oversee negotiations" with FEMA and other federal agencies" Boy how cozy in the flood region can it get?
I wonder when I read them saying they only charge $20 MORE than the going government rate of $133 a night a room. Where they normally would be charging $179 to $299 for those rooms
So is it 300% of Rack Rate as my previous post or $20 dollars more than government going rate? i wonder?

Well Mr Quinn claims it?s a 50-50 chance. He said "I could come out broke!"
Ya! Which sounds a whole lot better than saying "I could come out Rich!"
No wonder he hires security chief, Michael Montgomery, who said he worked for an Alabama company called Bodyguard and Tactical Security (BATS)..remember!


But then, not everybody is making a buck. or using that 50-50 Quinn-theory.

I read in that same paper this article and I have a great sense of respect for this man from the story I read. It told of how he flew his National Guard Black Hawk helicopter into the flooded areas of New Orleans and landed on a Holiday Inn rooftop that he wasn't even sure if he could fit the helicopter on to. And the added worry would they be over taken by people whom in trying to survive..., might take his chopper from him.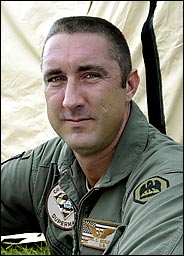 well neither of his worries manifested. This guy was doing the right thing!

With his own home flooded and his Family safe, Staff Sgt. Michael Sorjonen spent the next 10 hours flying over 420 people from the rooftop to safety. He flew as many as 30 trips back n forth, helping several amputees and several in wheelchairs and at least eight pets.
When he flew up he was quoted as saying ""Hundred of people were crowded onto the balcony, with barely and inch to spare. Some were weeping, some waving hotel towels. Others were on the verge of passing out from the heat and days of privation""

I like this guy!
It was nice to read about someone who cares during these greedy times.

I also heard about this guy who came to help do some demolition and flood damage removal and.... make some money, who said that they are being paid $35 an hour. However, when they worked at rebuilding after Hurricane Ivan they were allowed to work overtime. For the Hurricane Katrina rebuilding they are only allowed to work 40 hours a week.
Nevertheless, they anticipate that they will be in town for 6 months and they are thankful for the endless supply of FEMA money.? .....

Ha ha ha "endless supply of FEMA money" .....yha I bet.


Posted by joe-anybody at 10:28 PM PDT
Updated: Thursday, 29 September 2005 1:35 AM PDT