TIMES UP FOR DELAY
Mood:
lyrical
Now Playing: OH MY ! Is he a Republican? HA HA
Topic: Liars & Cheaters
You know this just has to get a halarious mention.
This is not poolside humor this is just plain honest to goodness damn good news for a change.
The
Indicted
Stepping Down Tom makes the news. Read the Smoking Gun Issue.
Wanna tell Tom to git ta stepping ...
Click the key word
"Resign!"
Now he says
this
....(quote) A defiant DeLay said he had done nothing wrong and denounced the Democratic prosecutor who pursued the case as a "partisan fanatic." He said, "This is one of the weakest, most baseless indictments in American history. It's a sham." (end quote)
Ha ha this guy has a list of ethics violations a mile long
He has been disciplened before over numerous issues like this. And he claims its a sham ....no its a joke and the rope is on your soap tommy and you aint going to be laughing nor golfing now!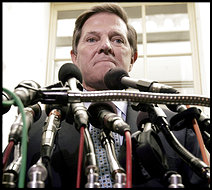 "Mr. DeLay Just Answer The Questions Please"
Posted by joe-anybody at 12:51 AM PDT
Updated: Friday, 30 September 2005 9:52 AM PDT