Legalize Pot and You Will Be Stopping Domistic Violence
Mood:
happy
Now Playing: HAHA crybaby Councilman is upset!
Topic: Civil Rights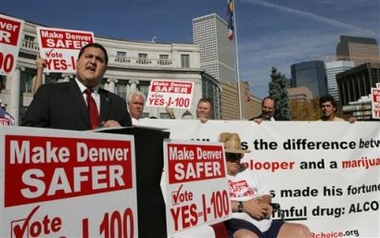 To tear down signs and freak over this ballot measure proposed by Mason Tvert, the 23-year-old campaign organizer (
shown in picture above
)is absolutely "bigoted and child-like" of the Denver elected councilman!!
Read
HERE
about a bigoted Councilman in Denver, whos name is
"Charlie Brown"

(HA! what a name for a block head)
Who in spite of how the
TRUTH HURTS Him
....look at his reaction and his attitude as he spins the issues and freaks out on the whole
Idea
of Police taking a low priority for marijuana issues.
What a Imbecile!
I hope this new law in Denver does pass.
Just about any
Joe Anybody
can see that Marijuana is
way more safer
than booze.
Just research the facts!
To support this agenda shows some intelligents and it shows you have read the facts that marijuana dangers are about nill. Not to mention a waste of police resources when there is
WAY
more serious crime to worry about.
Heck what a bunch of crybabies! Serve the people as you were elected and sworn to to do - "And leave your opinion at the door of your job all you
Profiteers
who's job is paved by funds - off the backs of marijuana smokers."
To the tune of: from 2002 to August of this year, some
6,800
people in Denver were charged with possession of less than one ounce of marijuana.
WOW
= That makes for big profits off these innocent
non criminals
, $$$$
Be forewarned Zebra 3 Readers, we all are going to see more and more of this type of
spin-whining
as the LOGIC of stupid laws start to get challenged and the bigoted rule makers cry as they are
forced into enforcing the PEOPLES LAWS!
Posted by joe-anybody at 6:45 PM PDT
Updated: Friday, 28 October 2005 9:34 PM PDT