Blogger - Cheaney - Torture - Scars - Toms Mug
Mood:
d'oh
Now Playing:
The Big 5
NUMBER 1
WASHINGTON--Politicians indicated on 10-19-05 that a
proposed law offering journalists special privileges might not be extended to Web loggers.
"The relative anonymity afforded to bloggers, coupled with a lack of accountability, as they are not your typical brick-and-mortar reporters who answer to an editor or publisher, also has the risk of creating a certain irresponsibility when it comes to accurately reporting information," Sen. John Cornyn, a Texas Republican,
(figures a Republican would want to suppress protections)
NUMBER 2
Sparked by today's Washington Post story that suggests Vice President
Cheney's office is involved in the Plame-CIA spy link investigation,
government officials and advisers passed around rumors that the vice president might step aside and that President Bush would elevate Secretary of State Condoleezza Rice.
(oh! my goodness! Is this piece of shit-house of cards and deception falling apart at the seams? This snowball of corruption exposure is going to be fun to watch)
NUMBER 3
In a stunning vote to restore the rule of law to stop the government from using torture and abuse, the Senate voted 90-9 for an amendment by Senator John McCain (R-AZ)
to ban the use of torture and cruel, inhuman, and degrading treatment. The McCain amendment must now pass the House of Representatives,
and the Bush Administration is promising to fight it every step of the way. Your action is needed to make sure the McCain amendment becomes law. Write to your member of Congress and urge that the House of Representatives insist that the McCain amendment should stay in the Defense Department appropriations bill.
(Now Listen up! and Wake up! Sleeping America! Fill out the ACLU form to Congress that I have conveniently provide. Be a Real American! Did you get that? "The Bush Administration is promising to fight it??? are they sick??? or what?)
STOP TORTURE!NUMBER 4
An FBI doctor testified Monday that
he found no significant scars on the back
of a U.S. citizen who claims that Saudi police whipped and tortured him into falsely confessing he joined al-Qaida and plotted to assassinate President Bush.
Richard Schwartz, a doctor contracted by the FBI, testified at a pretrial hearing that he examined Abu Ali in February, when he was brought to the U.S. from Saudi Arabia to face charges.
Schwartz said he saw three or four lines of "increased pigmentation" on Abu Ali's upper back when he conducted his physical exam.
The marks "appeared somewhat inconsequential," Schwartz said, and he did not include them in his written report. But he acknowledged on cross-examination that
they could
have been caused by a flogging.
(see this whole statement needs to be understood fully and the various options and all the facts considered, I am willing to eat my hemp hat on the fact that, those are real flogging scars.
I actually believe it based on our shitty way we value and respect human lives in prisons abroad and are whole torture policy under Bush and Company. You see I read the following --> HERE
"Abu Ali said he was tortured the day after he was arrested in Medina, Saudi Arabia, where he was attending college. When he was first taken into custody, he said, he told the Saudis he wanted to speak to the U.S. Embassy.
"I wasn't really cooperative at first. I said I would like to call the U.S. Embassy. I was denied that," Abu Ali testified, angrily smacking his hand on the podium. He said that the Saudis told him, "The embassy is not going to help you; you have to help yourself."
He said he refused to cooperate during four or five initial interview sessions, but relented after the whipping, in which he said he was struck an unknown number of times by an object he could not see because he was blindfolded and handcuffed to the floor. "I told them that I would cooperate and everything stopped," Abu Ali said. "I felt defeated, humiliated."
Readers...., I read that and feel like crap ... I think somebody ought to be fired ,,
For the little it matters remember this guy was born in the USA?. ....my my my!...what a mess! huh?)
NUMBER 5
"The Hammer Got Nailed"
is a good way to say it. The smiling 'pose' by Mr T is a smile that reminds many of us to enjoy in this event as much as Tom seems to be ...This climatic photo shoot gots me smiling bigtime!.....and heck I'm just Joe Anybody!

~ MUG SHOT OF HAMMER TIME ~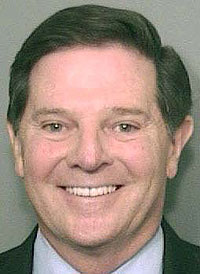 Posted by joe-anybody at 12:00 AM PDT
Updated: Friday, 21 October 2005 1:40 AM PDT